Sophie Stockham, St Augustine's Church, Penarth
St Augustine's Church, Penarth.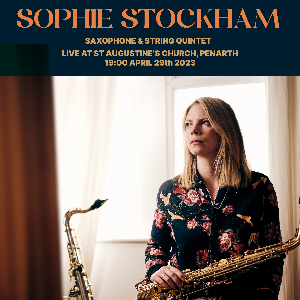 More information about Sophie Stockham, St Augustine's Church, Penarth tickets
Well known and much-loved Bristol-based saxophonist, composer and arranger Sophie Stockham, has performed extensively across the UK and Europe with her critically lauded projects Dakhla Brass, Sefrial, Orfic, Starlings and the Cut Capers, including at the Royal Albert Hall and Montreal Jazz festival, and she has worked with five times Grammy award winning producer Jerry Boys.
When the lock down hit in 2020 Sophie decided to study the art of string arranging and composition with the well known film and TV composer/arranger - Andrew Morgan. Sophie's debut album 'Ria' was born during this time. It is an original and innovative new project of crossover music for sax and string quintet. The compositions are inspired by life's cycles, experiences of being a woman in society and the beauty of our oceans and rivers. Sophie's influences include; Bjork, Stan Getz, Mary Lou Williams and Gorecki.
'Ria' album reviews:
'We live in a time when almost everything has already been said. Again and again there are artists who are looking for something new. They try to find new expressions, phrases…. An example of this is this album. Sophie Stockham has really succeeded in creating a unique work that is second to none.' - Jazz.de


'Achingly beautiful' - Ian Mann - Jazz man reviews

'Her creativity, dedication and passion always shine through'
(William Goodchild- award winning composer and conductor)